Aragorn Visits Cindy Sheehan at Camp Casey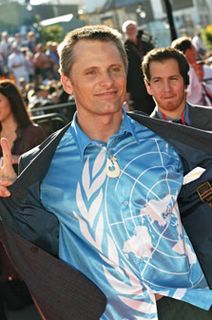 Viggo Mortensen (Aragorn)
Speak no evil of Lady Sheehan!
Among the supporters was actor Viggo Mortensen, co-star of the "Lord of the Rings" trilogy. He spent a few moments privately with Sheehan, thanking her for her protest.
Mortensen, a longtime activist and one of the first actors to wear an anti-war T-shirt on national television, gave Sheehan a raft of gifts: a handful of "No Blood for Oil" T-shirts he had painted; a copy of George Orwell's "Animal Farm"; a book by author and activist Howard Zinn; and "Twilight of Empire: Responses to Occupation," a book co-written by Jodie Evans, who is a top organizer with Sheehan's vigil. [Garofali, San Francisco Chronicle].