Near Eastern Notables at Funeral for John-Paul II
The funeral of Pope John-Paul II was an astounding and emotional event. The first images of crowds of greater than one million around St. Peter's Square left us wondering if there wasn't an outbreak of mass hysteria. I took us a few days to realize the deep sincerity that was bringing hundreds of thousands of mourners to Rome. The generosity of the Italians and the hospitality of hard-pressed Romans were impressive.
Besides the free mineral water, the free blankets, the 50-cent espresso, and the free transport offered to the visitors without reflexion, there was no panic, no standoff, no alarm as the throngs converged on the basilica and filed in through doors open 22 hours a day for four days! Congratulations are due to everyone: civilians, Italian public safety officials and the Curia itself. Look what sincerity and unreserved generosity in the name of a moral and kind pontiff committed to God and to public life have done: Everyone there seemed, well, in an aura of grace. Let's hope the future is brighter because of this remembrance.
By the way, Madrid's
El Mundo
has a wonderful gallery of images
clerics

Clerics from around the world assembled at the Vatican.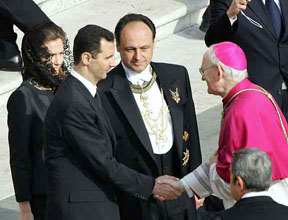 assad

Syrian President Assad and his wife.
rania1

Israeli President Moshe Katzav, Queen Rania of Jordan and Iranian President Mohammed Khatami.