22 August 2005 Events in Iraq and in the Region.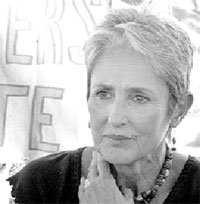 Joan Baez in Crawford
Karbala. Provincial Governor Akil Kaazali welcomed persons from fifty Shi'ite families displaced from Tel Afar and has lodged them at the Polish general headquarters. The displaced say that Sunni Salafists and fighters form Saudi Arabia, Sudan, Yemen and Syria have taken over the city and that US and Kurdish peshmergas are powerless to stop them.
Gaza. Palestinians rename evacuated settlements. Radicals and moderates vie in renaming campaign. Neve Dekalim has been renamed
Arafat City
. Morag may be known as
The Land of Victory, Cheikh Khalifa ben Zayed al-Nahyan City
or
City of Hope
. Atsmona may be named after a Palestinian martyr. Kfar Darom may be renamed
Sheikh Yassin City
, Hamas' spiritual leader assassinated by Israel.
Baghdad. Iraqi Vice Premier Ahmed Chalabi congratulated Iraqis on the presentation to Parliament of the draft Constitution and stated that the national referendum on the document will take place on October 15. Meanwhile Kurd Barham Saleh told Dubai based al-Arabiya that disagreements have not been settled and will be debated in parliament in the next few days. Paradoxically, President Bush says he is "full of hope."
Basrah. Oil exports resume after 16-hour power outage.
Ramallah. Palestinians wish to keep the "occupied" legal status of Gaza following the evacuation while Israel will ask the UN Security Council to pass a resolution declaring the end of its occupation. Besides the UN, the Israeli Supreme Court considers the Gaza Strip to be occupied. Palestinian legal advisor Younès al-Jarou, says that
the proclamation of the end occupation of Gaza by the Israelis means that it intends to avoid its obligations which compel it to protect the occupied populace and to provide for their essential needs in health, education and food. Gaza will be cut off from Israel--which we don't mind--but it will also be cut off politically, socially and economically from the West Bank and Jerusalem and that's a problem
. Al-Jarou says that Israel will permit neither the opening of a seaport nor an airport.
If a Palestinian wants to travel by air, he will have to go to Cairo, 450 km away. He won't be able to import or export except through the Egyptian ports of Damietta and Port Saïd
, more than 300 km away
To say that Gaza is free is an unprecedented hoax in the Israeli-Palestinian conflict. It permits Ariel Sharon, 38 years after the 1967 defeat and 12 years after the Oslo accords to transform military disengagement into the end of the occupation.
, says Palestinian Jurist Raji Sourani.
Israeli disengagement is going to suffocate Gaza whose population will not be permitted to use the port of Ashdod or the Tel-Aviv airport and will not be permitted to work in Israel.
Crawford. Singer Joan Baez joined protesters near George Bush's ranch:
I think the question which no one wants to answer and which the demonstrators are asking is the following: Did my child die for nothing?.
Baez gave a concert to the crowd on Sunday.
23:56 Washington. The White House expresses satisfaction at "developments" in Iraq surrounding the Constitution.
23:38 Amman. Jordanian intelligence source says Abu Musab al-Zarqawi is behind the katiushka rocket attack on US naval vessels.
23:48 Baghdad. The majority Shi'ites and their Kurdish allies has presented the draft Constitution to Parliament just before the midnight deadline. However, Sunnis have not approved the draft and the situation remains confused. Parliamentary Speaker Hadjim al-Hassani announced that the draft was presented on time but the adjourned the session saying debate would be delayed three days. It is not know if it is possible to override Sunni objections on federalism but the Shi'ites said they would proceed without the Sunnis. Shi'ites and Kurds are expected to maintain their positions despite US pressure.
23:10 Beirut. Ten persons were wounded by a blast in rue Monnot in the Zalka commercial district, a Christian suburb. Four suspects were arrested. The blast occurred in front of the Promenade Hotel. The building's façade was heavily damaged. A Starbucks cafe was also damaged by the blast. The explosive device was placed in an underground parking garage at the Moussa shopping center, causing the roof to collapse. The hotel was evacuated. Most guests were from tourists from the Gulf States. Meanwhile, enterprising owners of damaged shops immediate put their inventory on sale at 75% off.
23:10 Amman. Jordan says it has arrested a Syrian national for the katushka rocket attack on US naval vessles in Aqaba. Authorities says Syrien, Mohamad Hassan Abdallah al-Sehli" and his two sons along with a group of others entered Jordan with the intent of carrying out the attack. All are said to carry forged Iraqi passports. The group "rented a warehouse in the Harafiyeh quarter and transported the rockets from Amman to Aqaba." However, a just a few days, Jordan reported that "four Egyptians and some Iraqis" were responsible. Authorities say four rockets were found in the warehouse and that the group planned to launch 7 rockets at US naval vessels. [Oh, this sounds not completely honest. A Syrian? Isn't that a little too convenient? And what about that nifty 1900 scenario of Arab rebels firing on imperial gunboats?--Nur]
21:38 London. Brazilian delegation to meet with IPCC on death of Jean-Charles de Menezes. Deputy Attorney General Wagner Gonçalves and the the Justice Ministry's Deputy Director of International Judicial Cooperation Marcio Pereira Pinto Garcia are in London.
22:27 Beirut. Blast in the northern suburbs of Beirut wounds at least 2.
22:02 Baghdad. Iraqi parliament delays vote on draft Constitution by three days.
21:53 Beirut. Blast in the north of the city.
21:48 Salt Lake City. Bush says that he is "full of hope" that an agreement on the Iraqi Consitution will be reached and says he doesn't foresee a risk of a breakup of the Iraq.
21:04 Salt Lake City. Bush says Bin Laden wants an Islamic state in Iraq in an address to war veterans. Meanwhile a protest organized by the city's mayor greeting Mr. Bush outside the venue.
20:41 Baghdad. Iraqi forces arrest 68 suspected rebels.
19:47 Baghdad. Constitution still awaiting approval by the Sunni negotiators.
19:22 Samarra. Carbomb kills two US soldier and wounds two others.
18:39 Rome. Remzi Issac, brother of Hamdi Issac, has been in reclusion for more than 36 hours at his residence in Largo Pettazzoni in the Pigneto quarter of Rome and receives visits only from his attorney.
18:04 Gaza. Israeli evacution of the Gaza Strip is complete.
16:32 Kabul. The US military says it has killed 105 Taliban over the last three weeks.
16:00 Baghdad. Agreement reached on Constitution. Assembly to vote on text within the next two hours.
15:23 Baghdad. Massive power outage due to sabotage of transmisison pylons. All of Baghdad and most of the south of the country is without power.
15:00 Gaza. Mohammad Quathi, an employee of the French TV network
France 3
has been released.
13:50 Basrah. Eleven Pakistani hostages taken in Nassiriya are released, as well as three Egyptians and two Indians. All are preparing to leave for Kuwait. The Pakistanis worked as bricklayers in Nassiriya.
13:01 Baghdad. Five persons, including a Turkish engineer were kidnapped in the Iraqi capital by armed men.
12:29 Baghdad. Negotiations meet in extremis on Constitution. Facing a midnight deadline, Shi'ite, Kurdish and Sunni negotiators meet to finalized delayed Constituion.
12:00 Babil. Guerrillas attempting to carry out ethnic cleansing in several villages. Police General Kais al-Mamury of Babil Province says Shi'ite are being driven out of several towns and villages: Yussufiya, Daiyra, Latifiya and Jurf al Sakhr. Victims were ordered out of their homes and threatened with death. Some homes have been dynamited.
11:30 Baghdad. General Ali Hamdi al-Mussawi was wounded by friendly fire in the Hindiya quarter of south Baghdad. US troops at a checkpoint opened fire, wounding the general and three bodyguards.
11:10 Kabul. US military says it killed 40 Taliban in northeastern Afghanistan.
11:04 Ankara. Clash between PKK guerrilas and police kills one Kurdish separatits in Macka in northern Turkey. Two police were wounded. Police attempted to intercept three known PKK fighters inside a supermarket. One was killed and the two other escaped.
10:01 Baghdad. Big power blackout strikes capital. The cause is said to be a cut in the power supply from the Beiji generation plant. In the port of Basrah, oil lading pumps have quit.
09:31 Kirkuk. Captain Ibrahim Said, chief of antiterrorism in Kirkuk, was slain together with his wife when armed men opened fire on the car they were travelling in.
08:01 Tel Afar. Two US soldiers die in road accident. Their vehicle flipped over while on patrol.
07:40 Baghdad. Eight police were killed in a carbombing in the Karada quarter. Another eight are wounded. Meanwhile police say they recovered five unidentified human remains.